Double luck for Chinese lottery player
04-07-2013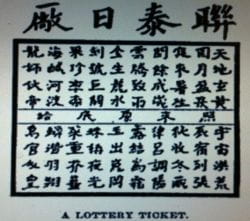 Chinese media report about a lottery player who took home two cash prizes in less than two weeks. The lucky winner, who goes under the pseudonym Wang, hit two lottery jackpots, awarding him
$2.3 million
in cash.
Two lottery jackpots
Wang decided to bet on one single number, and he purchased 36 tickets with that specific number. It appeared to be a lucky bet as the number resulted in a $815,556 jackpot. Subsequently, the Chinese construction worker decided to buy a few more lottery tickets. Only one week later, Wang took home another lottery jackpot, worth
$1,505,515
.
Affected by jackpots
The fortunate lottery player returned to a construction site after winning the first jackpot. However, Wang had a hard time falling asleep after the second lottery prize. Additionally, his job performance worsened. "I have no specific plans for the money. Despite the
two staggering cash prizes
, I will not quit my job," Wang added.