Double lottery luck for California gambling enthusiast
02-12-2015
They say lightning never strikes twice, but a Modesto resident has achieved it in the form of two lottery wins within a few minutes. Meet Rodney Meadows, who was thrilled when one of his scratch cards hit a $1,000 prize. That was
nothing compared with his second win
.
Rewarding hunch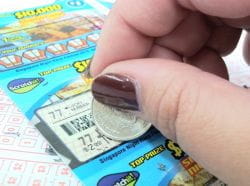 Meadows decided to buy more scratchers as he felt that lady luck was on his side. It proved an extremely
rewarding piece of presentiment
as another of his scratch tickets resulted in a $10 million jackpot. The man from Modesto couldn't believe it, and he asked the store attendant to verify the ticket again.
$50,000 bonus
A spokesperson for the California Lottery noticed that the Modesto-based retailer will receive a selling bonus check for $50,000. Another customer scooped a
$25,000 windfall
in October, while the store sold a $30,000 scratcher in 2014. Meadows said he has no immediate plans for the winnings, but hopes it will change his life for the better.