Dominican gambler takes home $338 million Powerball jackpot
26-03-2013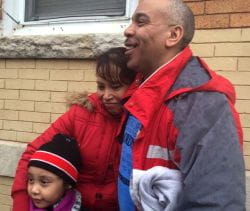 An immigrant from the Dominican Republic has become an instant millionaire thanks to a winning Powerball ticket. The 44-year-old Pedro Quezada has won a
$338 million lottery jackpot
. Quezada validated his Powerball ticket at the liquor store in New Jersey where he purchased the fortunate ticket.
Fourth-largest jackpot
The Dominican gambler can opt for a lump sum cash-out of $221 million, which after taxes comes to approximately $152 million. A spokesperson for the New Jersey Lottery revealed that only three
Powerball jackpots
have been bigger than this latest win.
Gracias a dios
The 44-year-old winner plans to use the money to support his relatives. "I still can't believe it. We never expected it, but we thank God," his spouse Ines Sanchez commented.
Hardworking people
Quezada lives with his family in a Passaic-based apartment. "They are a calm family and not very chatty," one of their neighbors said. He added that Pedro and Ines are always working. "Everybody in the neighborhood is proud of them. It's always nice to see humble people win jackpots of this magnitude," he concluded.