Divorce after landing £148 million EuroMillions jackpot
20-11-2013
Does a multimillion jackpot affect a marriage?
£148 million
is definitely a life-changing jackpot, both literally and figuratively speaking. Adrian and Gillian Bayford took home that massive in August last year, and they now have decided to put an end to their marriage.
Rumors of affair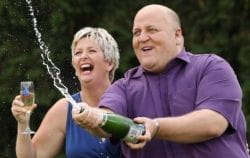 Gillian will not make any statement concerning the divorce, according to her spokesperson. In the meantime, Adrian has left their multimillion pound villa. The word on the street is that Gillian is having an affair. "Just like every other woman I like to go out once in a while, but I can assure everyone that I have always been
faithful to my husband
," Gillian noted.
Back to work despite lottery fortune
After scooping the EuroMillions jackpot, Gillian resigned from her job as a healthcare worker. 41-year-old Adrian however continued working at his music store. Late 2012, Adrian had no other option that shutting down his business due to the
increasing number of parasites
begging for money.
Second largest jackpot
The fortunate couple ordered some pizza's after they learned about the lottery bonanza in August 2012. Additionally, they celebrated the win by enjoying a caravan trip across Scotland. Their £148 million windfall is the second largest one in the United Kingdom. In 2011, a
Scottish couple bagged a £161 million jackpot
.