Coworkers sue self-declared lottery winner
01-10-2012
Mirlande Wilson is again in the spotlight as her colleagues are suing the Haitian immigrant. Wilson self-declared as one of the three winners of the
$656 million lottery jackpot
and would not share the prize with her coworkers. In the end, it turned out to be one big lie as she wasn't the holder of a winning Mega Millions ticket.
Lottery pool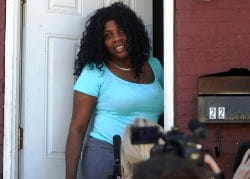 The fast-food workers believe that Wilson's winning ticket belonged to the lottery pool. Wilson claimed she purchased the ticket outside of the lottery pool, and declared that she had lost the ticket. A few days later, it became apparent that
three Baltimore school employees had won the $656 million jackpot
.
Cell phone pictures
One of the restaurant workers, Dominique Gourdet, dated Wilson at the time she falsely claimed the jackpot. Gourdet claims that her cell phone pictures revealed the winning ticket. "She told me about a deal with the others as she purchased the ticket and would therefore be entitled to most of the money."
Based on nothing
Wilson also allegedly said that the three Baltimore school workers would each receive $1 million for their participation in the plan. Additionally, her attorney would be given $2 million. The Haitian immigrant has declared that the accusations are based on nothing, while lottery officials have underlined that the three public school employees are the true winners.