Construction worker celebrates second $1 million windfall
12-05-2016
A gambler from New York has bagged a $1 million windfall thanks to a winning scratcher. This latest win comes after Bruce Magistro
took home another $1 million bonanza
back in 2012. However, both lottery jackpots can't make up for the loss of this beloved partner two years ago.
Gift from heaven above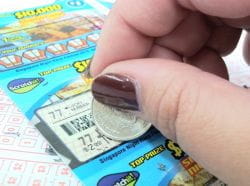 The New York resident believes that this recent lottery windfall is a present from his deceased loved one, which is something of a
cold comfort
. "I'm convinced that this second win is Yvonne's way to thank everyone", the fortunate construction worker commented. Yvonne died of cancer after battling three years against the horrible disease.
Against all odds
Magistro purchased the lucky scratcher at a local filling station, read a statement from the New York Lottery. The fortunate gambler is definitely a lottery fan as he buy tickets nearly every day. Magistro described the experience as 'surreal' when he discovered his second
$1 million lottery jackpot
. "What are the odds that someone wins a cash prize of this magnitude twice?" the New York man added.