Clinically dead lotto player cashes $1,000,000
23-07-2013
The Kansas Lottery has revealed that Nelson Worley has become an instant millionaire after winning a
$1,000,000 jackpot
. The Osawatomie resident took home the staggering cash prize thanks to the popular Powerball game.
Face to face with death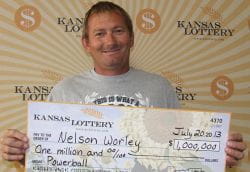 Winning a six-figure jackpot is a huge contrast considering his medical condition six months ago. Worley came face to face with death due to a cardiac arrest and he even revived from clinical death. "Above all, I'm
grateful to be alive
," the jackpot winner commented. "We all dream about scooping a life-changing jackpot, but you never expect to actually win one."
Luck turned around
The 43-year-old Osawatomie resident was enjoying a kart race when he suffered a cardiac arrest. Another kart racer performed cardio-pulmonary resuscitation (CPR) and
saved his life
. The identity of the man has never been unveiled. "Nelson is a wonderful man and his luck has turned around after the shocking incident earlier this year," his spouse noted.
Dreams do come true
Nelson and Shannon run a stucco contracting firm. The Worleys are a happy family and they have five children. Nelson said they would pay off their mortgage and invest some of the money in their business. "I have always dreamed about winning a staggering cash prize. It still seems so unreal," the fortunate
lotto player
added.