Casino player lands $9.9 million jackpot
03-11-2014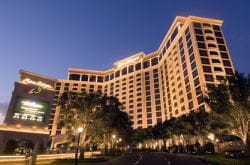 Jane Thornbury was enjoying a gambling session at the Beau Rivage Resort & Casino when she experienced a life altering event. The Tennessee resident scooped a
$9.9 million jackpot
thanks to a Wheel of Fortune slot machine.
Rewarding attempt
"I had just won $250, and I decided to try another slot. Once again I came across a Wheel of Fortune machine, which I had already tried several times. However, this time
lady lucky was on my side
and I took home the staggering jackpot", the fortunate casino player commented.
Record jackpot winner
"This is definitely our largest payout ever with regard to Wheel of Fortune slot machines. We have celebrated several players who took home
huge jackpots thanks to the Wheel of Fortune slots
, but nothing comparable with this latest one", a spokesperson for the Beau Rivage Resort & Casino noted.