Casino player hits $844,437 jackpot
29-08-2014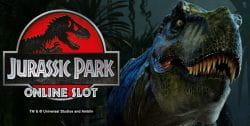 They say good things come in threes, but that was not the case at a Buffalo-based casino. A gambler from Eden played the Jurassic Park slot for the second time, and
bagged a $844,437 bonanza
. Five wild symbols resulted in the massive cash prize.
Unexpected windfall
The winner was speechless when the bells starting ringing to announce a $844,437 prize. "I couldn't believe my eyes as you don't expect to win a jackpot of this magnitude", the fortunate slot player stated. He decided to play the
Jurassic Park
slot after he had read that Richard Attenborough had recently passed away.
No immediate plans
The Eden resident placed a $3 maximum bet, after which the reels started spinning. Robert first thought that the jackpot was the result of an error. He has no immediate plans for the windfall, but together with his spouse he will come up with something. Robert isn't planning to leave his job in spite of the
staggering slot windfall
.