Casino gambler cashes $33,200 within 35 minutes
20-10-2012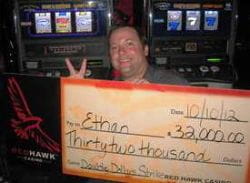 A lucky slots player from Shingle Springs, California has won two jackpot in less than 35 minutes at Red Hawk Casino. The lucky gambler, identified only as Ethan, headed home with $33,200 in cash. Ethan is a regular player at the Placerville-based gambling venue and he loves the casino's friendly staff.
$33,200 within 35 minutes
The Shingle Springs resident first started spinning the reels of a Double Dollar Strike slot machine. After less than 30 minutes he had won $1,200 in cash. Ethan then decided to play a different Double Dollar Strike slot and lady luck was again on his side. Within a couple of minutes, the slot machine spilled out a jackpot of $32,000. Ethan will use the jackpot money to continue gambling at the Placerville-based casino.
Jackpot news
Across the globe, slots have been extremely popular for many years now. Our extensive news section is divided into several categories, including online gambling, casino, jackpots, poker, sports betting and general news. The jackpot category features exciting news on both online and offline jackpots, including amazing slots payouts. How about a
Mega Bucks progressive slot that spilled out a $1.7 million jackpot
?