Cash 5 ticket awards $400,505 jackpot
07-04-2013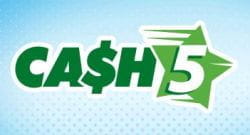 The Virginia Lottery has announced that a Chesapeake resident has landed a
jackpot worth a whopping $400,505
. The lucky player in question, Cathy Do, purchased four tickets for the Cash 5 Virginia Lottery drawing. They all featured the numbers 4-8-12-25-32, which turned out to be lucky numbers. The Cash 5 lottery game comes with a main prize worth $100,000.
Indescribable experience
"Winning a jackpot of this magnitude is really amazing. I'm still in a daze and I just can't find the words to describe my happiness," Do commented. Additionally, she purchased tickets that featured different numbers. Those tickets rewarded her another $505 after three and four numbers lined up in the lottery draw. Do plans to pay some debts with the jackpot money. She bought the tickets at a Norfolk-based filling station, which reminds us about
Arik Solomon who also purchased his winning tickets at a gas station
.