Canadian slots player scoops $1.3 million jackpot
22-06-2012
The Camrose Resort Casino has celebrated a massive jackpot winner. Laurie Grahn walked away with $1,284,374.68 in cash courtesy of the Diamond Millions slot machine. Meanwhile, the Alberta Gaming and Liquor Commission has verified the jackpot win.
Exciting atmosphere
"Within no time, all casino visitors knew about the jackpot win. There was a pretty exciting atmosphere and
patrons
were wondering who the lucky player was. We are so happy to celebrate with Laurie her amazing jackpot win," read a statement from the Canadian gambling resort.
Third progressive jackpot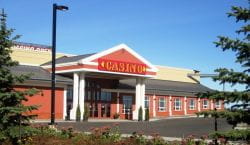 Diamond Millions is available at 27 gambling venues across the Canadian province. Before this latest win, the progressive slot machine had only dished two jackpots. Previously, the Apex Casino celebrated a jackpot win of $1.3 million. That same slot machine spilled out a jackpot worth $1.4 million at the Casino Dene.
Private poker rooms
The Camrose Resort Casino offers punters 6 private poker rooms and 12 table games, featuring blackjack, mini baccarat and
Texas Hold'em
. On top of all that, gamblers can choose from 200 slot machines. The casino also hosts poker tournaments on a regular basis. Before this latest win, the biggest pay-out at the Camrose-based casino was $100,000.