Canadian lotto player scoops $20 million windfall
29-07-2014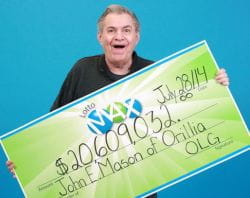 If you buy a lotto ticket you run the risk of winning a multimillion cash prize. John Mason was aware of that risk, and he now has to live with the consequences after
cashing $20 million
. The Canadian gambler still can't believe he has won a jackpot of that magnitude.
Rewarding business
Mason purchased the lucky ticket at an Orillia-based retailer. News of the jackpot win spread like wildfire around town. "It's amazing, it shows
how rewarding it can be to play the lotto
", an Orillia resident commented. Despite his new fortune, the 75-year-old will continue to buy lotto tickets.
Big winner
"The terminal produced a strange sound, and the display said 'big winner'. Subsequently, the amount appeared and I was absolutely stunned", the shop clerk noted. She noted that Mason comes in regularly to buy lotto tickets. "It's great to see a regular customer win a
life-changing jackpot
", the shop clerk added.