Canadian lotto player hits $16 million jackpot
05-07-2012
Terry Hostikka from Brantford, Southern Ontario has become an instant millionaire thanks to his winning Lotto 6-49 ticket. The Canadian lotto player took home a cash prize of
$16,194,489
. "I drank a couple of beers to calm down," Hostikka noted.
Esso shop sold winning ticket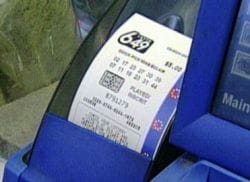 The 55-year-old widower will visit the Toronto-based Ontario Lottery and Gaming (OLG) office to claim the jackpot. "The winner must present the ticket and a photo ID at the lottery office. So far we can only reveal that the lucky ticket was bought in Brantford and that the ticket was cashed at an Esso shop," read a statement from OLG.
Two jackpot winners
Last Saturday's jackpot was split in half after two tickets matched all of the numbers required to land the top prize. The other ticket-holder has yet to claim his fortune. The shop clerk called the lottery office to ask how much Hostikka had won. However, they refused to reveal the jackpot amount. He scanned the ticket again and the display unveiled the
staggering jackpot
.
Minimum jackpot of $3M
Canadian lottery fans can choose from two lottery games. Lotto 6/49 drawings are conducted on Wednesday and Saturday. The Lotto 6/49 game made its debut back in 1982, inviting competitors to select six numbers. Players can win a minimum jackpot of $3,000,000, after six numbers are drawn from a set of 49.