Canadian lotto player collects $6.9 million jackpot
09-07-2014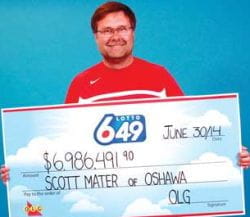 The Ontario Lottery and Gaming Corporation (OLG) has handed out another multimillion dollar check. This time Scott Mater is the fortunate player who
collected a $6,986,491.90 jackpot
. After the first check, the database administrator thought he had won $7,000 in cash. Luckily for him, it was a bit more.
Multimillion jackpot instead of $7,000 prize
"I decided to purchase a lotto ticket after winning some minor cash prizes thanks to a couple of lottery tickets. Fourteen days after the drawing, I verified my ticket and thought it hit a $7,000 jackpot", Mater told. He checked the ticket again on his computer and then it became clear it was
actually more than $6,9 million
.
Investments and a new vehicle
The 49-year-old Oshawa resident was speechless, while his spouse and children couldn't believe it. Mater plans to buy a new car, while he wants to use another chunk of the jackpot for investment purposes. It goes without saying that his family will also benefit from the
staggering lotto prize
.