Canadian lotto duo picks up $17.4 million jackpot
01-05-2013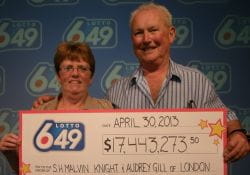 The Ontario Lottery and Gaming Corporation has awarded a couple from London a
check worth $17.4 million
. Malvin Knight and Audrey Gill won that staggering amount thanks to a winning Lotto 6/49 ticket. Their relationship started back in 1995 and they have been a happy couple ever since. Malvin and Audrey intend to provide their family with financial support.
Right before closing
They tend to buy Lotto 6/49 tickets on a regular basis. However, a hockey game almost prevented them to purchase the one that turned out to be life-changing. "We were watching a hockey match when all of a sudden I thought about the lotto ticket. I then rushed to the corner shop only a few minutes before it closed to buy a Lotto 6/49 ticket," the 60-year-old jackpot winner told.
Screaming and crying
Gill verified another ticket at the local convenience store and bought a Lotto 6/49 ticket. She started screaming when she realized that the
Lotto 6/49 ticket
had awarded them a $17.4 million cash prize. She then started crying out of joy, after which the couple checked the ticket again.