Canadian duo wins $50 million jackpot on new year's eve
03-01-2012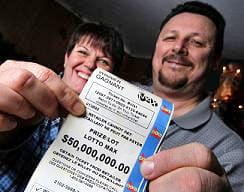 Jo-Ann and Gaetan Champagne from Hawkesbury, Ontario, have won $50 million on new year's eve. The Canadian couple used a free ticket at a casino to take home the staggering jackpot. Initially, they celebrated a jackpot worth $50,000. After checking the numbers again, Jo-Ann and Gaetan discovered that they had cashed $50 million.
Jackpot worth $50 million
"We still need some time to let it all sink in. After checking the numbers at the Hawkesbury Pharma Prix, we realized it concerned a cash prize worth $50 million," Jo-Ann commented. They revealed to use the money to support their children. In addition, Jo-Ann and Gaetan plan to treat themselves to a new house and some cars. They will also donate money to local charities.
Lucky number
Jo-Ann stated that the multimillion-dollar jackpot is the result of her affection for the number eleven. "For some reason, the number 11 is the leitmotif in my life. My mother was born on the 11th, while both my father and one of my children were born in November. And then of course we exchanged our wedding vows on the 11th month. On top of all that, we took home the
jackpot
on the final day of 2011."