Canadian comic nerd takes home $30 million lotto prize
17-09-2013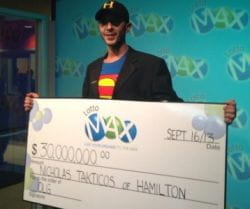 A Hamilton (Ontario) resident has become an instant millionaire thanks to a winning Lotto Max ticket. 35-year-old Nicholas Takticos portrays himself as a comic nerd who has won
$30 million in cash
courtesy of the Canadian Lotto. "You never expect to win a jackpot of this magnitude," Takticos commented.
Mother love
The 35-year-old car worker immediately informed his mommy. "Lotto lightning has struck us. We have won a staggering Lotto Max jackpot," Takticos told his mother. "
Nothing is more important than family
." The lucky winner worked at a Toyota factory, but has resigned from the company located in Cambridge (Ontario).
Unbelievable
Takticos decided to check the lotto numbers after coming home from an exhausting night at the Toyota plant. "At first, I thought I was checking the wrong numbers. I just couldn't believe I had won $30 million in cash," the new millionaire said. A few days after Labour Day, he decided to inform his manager about his plans to leave the company. "I think most people would stop working after winning a
multi-million jackpot
."