Bundaberg woman lands $1.16 million keno jackpot
16-10-2014
Everybody loves birthday gifts, but nothing beats a
$1.16 million present
. An Australian punter was celebrating her 42th birthday when she took home the life-changing jackpot. The mother of four bought the winning keno ticket at Brothers Sports Club.
Life-changing birthday party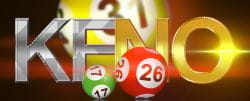 The winner, who is employed as a patient diet monitor, visited the gambling venue with her husband in
honor of her birthday
. She picked the numbers based on her birth date, age, and date. She couldn't believe her eyes when she discovered that she had won the staggering windfall.
Unbelievable moment
The fortunate Bundaberg resident doesn't usually gamble during the workweek. "We went to the club as we both were enjoying a day off. This time I decided to play ten numbers rather than six. It was definitely a
life-changing moment
when I saw the jackpot on the screen", the Australian woman commented.
Rewarding game
In early October, a duo from Maryborough cashed $1.74 million thanks to a winning
keno
ticket. The couple bought the entry at a local gambling hall. It shows how rewarding the lottery-like gambling game can be. Most
online casino sites
also offer keno.