Briton hits £40 million jackpot on transnational lottery
28-01-2012
The EuroMillions lottery has awarded another Briton a rollover jackpot. The company behind the UK National Lottery, Camelot Group, announced that the jackpot featured £40,627,241 in cash.
New member millionaires club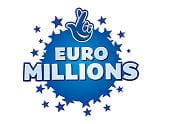 "What a wonderful way to start the new year. Everybody at Camelot Group is excited about another massive winner from the UK. We are pleased to add another new member to our millionaires club," read a statement from the
lottery
organization.
Record jackpot worth £161,653,000
In July last year, Colin and Chris Weir from Scotland won the record jackpot worth £161,653,000. "We were completely shocked and we couldn't sleep. We enjoyed a nice bottle of wine to calm our excitement. Usually we only drink wine during the holiday season," Chris said.
Only 3 participating countries
EuroMillions
made its debut back in 2004, with only three countries participating (France, Spain and the UK). Nowadays, players in Andorra, Austria, Belgium, France, Ireland, Liechtenstein, Luxembourg, Monaco, Portugal, Spain, Switzerland and the United Kingdom can join the European lottery.