Bingo persistence rewarded with £250,000 win
08-09-2015
We all know that perserverance will bring success. A woman from Rhyl can bear witness to that nation after playing bingo for more than quarter of a century. This bingo fan in question, who only gave her name as 'Maclean', has now
scooped a £250,000 jackpot
.
First big win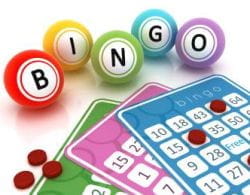 Maclean was enjoying her favorite game at a bingo venue in her home town. "I was shocked and stunned when I realized I hit the jackpot. In my 25 years as a bingo player I have won several minor prizes, but nothing comparable with this
stunning jackpot
", the Rhyl resident commented.
Unforgettable moment
She won the massive prize at Apollo Bingo where she was enjoying the National Bingo Game. Maclean started playing
bingo
at the Rhyl establishment back in 2010. "I'm still overwhelmed, and I need some time to process the exciting event", Maclean added.
Bingo jackpot excitement
"
It's always a pleasure to see players win staggering amounts
. Almost needless to say that such events add to the excitement among other players. We are proud that one of our regular customers has won a jackpot of this magnitude", a spokesperson for the Rhyl-based bingo parlor noted.