Australian slot player hits $500,000 jackpot at Jupiters Casino
19-05-2014
How about kicking off the week with a $500,000 cash prize? That's exactly what has happened to a Townsville resident at a gambling venue in Gold Coast, Queensland today. The lucky player in question was spinning the reels of a Golden Dollars machine when she scooped a
$500,000 bonanza
.
Local jackpot winner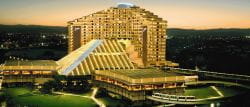 A spokesperson for the Jupiters Casino was delighted to award the massive cash prize to a patron from Townsville. "We are excited that a local player has won the jackpot as she tends to visit Jupiters Casino on a regular basis. And in this way, the
money remains in our community
", the spokesperson commented.
Music rather coins
The Golden Dollars slot didn't spill out any coins due to the huge amount of the prize. "Instead of the sound of coins pouring from slot machines, they produce music when someone wins a
massive jackpot
. Additionally, it prevents that other players rush to the winning guest", the spokesperson added. The Townsville guest declined to be identified.