Attempt to illegally claim lottery prize results in prison term
21-08-2012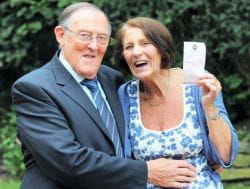 Farrakh Nizzar has to spend 2.5 years in prison. The 30-year-old shopkeeper tried to cash in a lottery ticket belonging to Maureen Holt. The 77-year-old Oldham resident checked the status of her lottery ticket at the Best-One corner store. Nizzar told that the EuroMillions ticket was a loser, while in fact it was a winning one worth £1 million.
Rightful owners
The shop worker phoned the Camelot hotline in an attempt to claim the prize. However, the lottery worker smelt a rat after Nizzar couldn't remember where he had purchased the EuroMillions ticket. They managed to find the rightful owners thanks to video surveillance footage and her supermarket club card.
Expired visa
The 30-year-old shop worker from Pakistan pleaded guilty to fraud. On top of all that, Nizzar must return to his country due to his expired residence permit. Maureen Holt and her husband always believed he was a good lad and they hoped he would learn from his mistake. "We are excited to share the money with the people we love. Farrakh has sent us a letter, which we really appreciate," Maureen Holt noted.