$650,000 lottery jackpot cold comfort
01-04-2014
Timothy McDaniel's life turned around after losing his wife to a heart disease. The next day, he discovered that he had won
$650,000
thanks to a winning $1 California Lucky for Life Scratchers ticket. It goes without saying that the lottery jackpot only paid lip service to the devastated man.
Gift from heaven above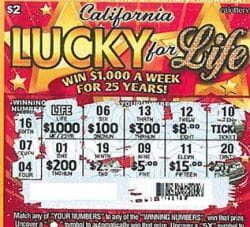 "I consider the
lottery jackpot
as a gift from my late wife. We have always supported our (grand)children financially, and the cash prize enables me to continue the support", the Californian resident stated.
Financial support
"I don't believe in coincidence, so I consider the jackpot as a sign. I am not planning to quit my job, and I'm going to
continue my everyday life
. The lottery money enables me to help my relatives in case of financial problems, which is something that me and my wife have always done", McDaniel commented.
$375,000 rather than $650,000
The Californian man has chosen to have the lottery prize paid out as a
one-time cash option
worth $375,000 before taxes. That means he didn't opted for a weekly payment of $500 for 25 years, which would have resulted in $650,000 in cash.