€6.4 million jackpot belongs to airport staff
05-03-2013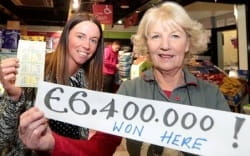 Yesterday no one was really sure who had won the €6.4 million jackpot at Dublin's airport. A few hours later it became clear that it was not a passenger, but the airport staff that had won the amazing price. The winners are a group of colleagues of Dublin Airport Authority staff. They do the Lotto every week, and wish to remain anonymous.
€112 ticket worth millions
The seventeen winners will divide the prize and will each receive an astonishing €364,705.882. The ticket of €112 was purchased last Wednesday at a Spar shop in Terminal One. Therefore it was unlikely that a passenger had spent so much money on a Lotto ticket. A member of Spar said: "People passing through the airport would only really buy a quick pick, staff would spend more on a ticket".
Surprised to say the least
The airport staff winners could not believe it. Even though they participate in the Lotto every week, they had never won such a big prize. "Some of the winners are engaged and will use the money for their wedding", a spokesman said. Last week a man was also surprised to say the least, after winning millions.
He drove home after a friends funeral and won $7 million
.