$55 million jackpot winner triumphs in court
08-01-2013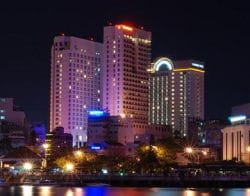 Sheraton Saigon Hotel's Palazzo Club has been ordered to pay a jackpot worth a whopping
$55 million
. A Ho Chi Minh City-based court has ruled in favor of an American gambler. The owner of the Sheraton Saigon Hotel claimed that the maximum pay-out at the Palazzo Club was $46,000. According to the casino, the alleged jackpot of $55,542,291.70 was the result of a defective gambling machine.
Evidence
The jackpot winner claimed that a $55,542,291.70 jackpot had appeared on the display of the slot machine in October 2009. He decided to make pictures of the one-armed bandit, while he also requested witnesses of the incident to provide written confirmations of the incident. However, the floor manager didn't want to sign a statement saying that a $55,542,291.70 jackpot had flashed up. Check
BestOnlineCasino.com
for more exciting gambling news.