$50 million lotto jackpot thanks to bag of nachos
11-02-2015
Gregory Nikolopoulos has become an instant millionaire thanks to his appetite for a snack. The Wasaga Beach (Ontario) resident headed to a nearby bodega for some nachos. Nikolopoulos also decided to purchase a few lotto tickets, which turned out to be a
rewarding decision
.
Amazing discovery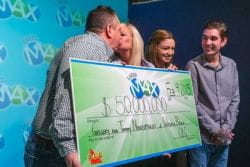 One of those lotto tickets hit a
$50 million windfall
. Nikolopoulos said he has no immediate plans for the windfall as he still needs time to process the life-changing event. "I always buy lotto tickets on Friday nights, which has become a habit. The next morning I checked my tickets on the lottery's website, and I discovered that all numbers lined up", Nikolopoulos said.
Hard to believe a joker
The Wasaga Beach resident was shocked, and he started shouting loudly. His spouse and their daughter were enjoying a holiday in the Caribbean at the time of the
lotto jackpot win
. They decided to take the first flight home, although she first didn't believe her husband as he tends to joke around. Despite the staggering win, Nikolopoulos will continue to buy lotto tickets.