$338M jackpot winner closes his grocery store
31-03-2013
The 44-year-old Pedro Quezada doesn't appreciate the media attention as a result of the $338 million lottery jackpot. Quezada is the owner of the Apple Deli Grocery shop, which is now for sale. The Dominican jackpot winner and his family will move to another place in order to stay out of the spotlights.
Unwanted attention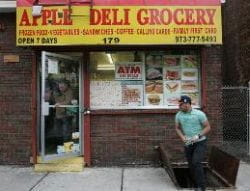 Besides the media attention, Quezada also fears crime after
winning $338 million in cash courtesy of the Powerball game
. At first, the Dominican immigrant wasn't planning to shut his bodega. "It's impossible for us to stay in our old neighborhood. We have to move as reporters are making life difficult for us," Quezada told one of his friends.
Enjoy the good life
Most neighbors would probably do the same as criminals may target the new millionaire. "Such a huge amount of money may attract bad people, particularly in a lower class suburb like this," commented a 47-year-old neighbor. "The staggering jackpot enables my brother to quite working. He will use the money to enjoy the good life, which is something that most people would do after winning a jackpot of this magnitude," his brother Carlos added.