$2.9 million lottery jackpot thanks to forgotten ticket
05-09-2014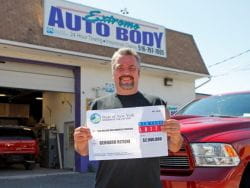 Never forget about your lottery tickets, something that Jerry Ritieni definitely underlines. The auto-body shop owner from Long Island almost missed out on a life-changing jackpot. However, he managed to
prevent a $2.9 million deception
.
Unbelievable sensation
Ritieni purchased several lottery tickets in mid-July, and kept them in his truck. About four weeks later, he came across the tickets by chance. "I checked the numbers one by one, and after about 60 seconds I realized I had become an instant millionaire. It was such a surrealistic experience", the
lottery winner
commented.
Completely shocked
The Long Island resident told his son about the bumper win, but he thought his dad was kidding. But soon he realized that his father wasn't joking. Staff members of the
New York Lottery
verified his ticket, and confirmed that the jackpot win was real. "I was speechless, and I'm still in a daze", Ritieni added.