$250,000 in cash courtesy of a lucky scratch card
29-01-2014
Meet Betty Kelson, an ordinary woman from Moscow (Idaho) who likes to buy scratch cards. Her latest one rewarded her with $250,000 in winnings, read a statement from the Idaho Lottery. Kelson was shocked when she heard about the staggering cash prize.
Shocked and speechless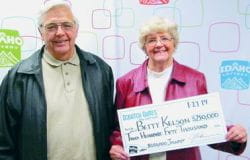 "I bought the ticket at my regular supermarket, where I checked the scratch card. At first, I thought I had won a small amount of money. But when I checked again I almost fainted. Suddenly I was in a daze, and I asked the store employee to verify the scratch card. When it became clear that I had won
$250,000 in cash
I immediately informed my husband, and he was speechless," Kelson said.
$20,000 selling bonus
While the enormity of her windfall is still sinking in, she already has a few ideas of how the money will change her life. Actually, she has made plans for almost every dime of the
scratch card jackpot
. The Moscow resident didn't reveal her plans. The Idaho Lottery will award the Moscow-based a selling bonus check for $20,000.