$2.5 million lottery windfall thanks to coffee stop
04-03-2016
A coffee lover has raked in a
whopping $2.5 million in cash
courtesy of a Virginia Lottery ticket. The fortunate gambler in question, John Johns, decided to purchase a couple of scratchers, and one of them hit the jackpot. Johns bought the lottery tickets while visiting a convenience store based in Alexandria.
Unbelievable event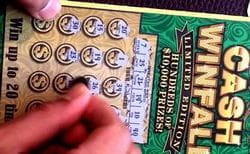 The Arlington resident has opted to take the prize in a lump sum of $2.5 million. Before taxes, he will take home $1.35 million. Johns plans to use his newfound wealth to buy a second home. "It's a wonderful feeling, and I need some time to process the life-changing event", the
lottery winner
commented.
Rewarding car repair
Johns bought a cup of coffee while a motor mechanic was repairing his car. The Arlington man seized the opportunity to purchase several scratch cards, including some Cash Winfall tickets. One of those scratchers turned out to reward him with a $2.5 million bonanza. The Virginia Lottery will award the
7-Eleven
store a selling bonus check for $10,000.