£1m lottery jackpot thanks to stolen ticket
17-08-2015
The Singapore Sweep lottery paid out a £1 million prize, but Philippine Police smelled a rat. The Filipino woman who came forward reportedly
stole the winning lottery ticket
. Investigators have already interrogated the 44-year-old suspect several times.
New house in the Philippines
Police refused to unveil the identity of the woman, who is employed as an
au pair in Singapore
. The 44-year-old lottery winner declared that she had transferred the jackpot cash to her bank account, after which her children received an unidentified amount. She intends to use a large chunk of the lottery money to construct a home in the Philippines.
Supported by host family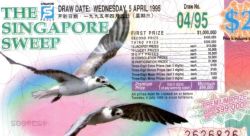 The Philippine woman
isn't planning to quit her job
. "My employer has always treated me well, and we have become really close", the woman noted. A spokesperson for the family confirmed that they support their maid, who is considered a sincere and pleasant woman.
No footage of the purchase
Police launched an investigation after an unidentified person had informed them about the
stolen lottery ticket
. The 44-year-old woman purchased the ticket at a retailer that is equipped with a CCTV system, but the tape in question has been deleted. A spokesperson for the police stated that they were still investigating the case.