$14,000 lotto win turns out to be $14 million jackpot
30-09-2014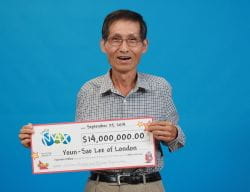 We all like surprises, but nothing beats the sensation of winning a multimillion dollar jackpot. Youn-Sae Lee can bear witness to that fact after scooping a
$14 million bonanza
thanks to a winning lotto ticket.
Pleasant surprise
Initially, the 69-year-old Canadian thought he had won a $14,000 prize. Lee was obviously stunned when he learned it was in fact a $14 million windfall. "For some reason I managed to remain calm, while the shop attendant seemed to be overjoyed", the
fortunate lotto player
commented.
Weekly routine turns out rewarding
Lee purchased the winning lotto entry at a filling station based in the township of Middlesex Centre, Ontario. "I tend to buy several lotto tickets when I fill up my tank on Saturday. Subsequently I verify my entries immediately after the drawing", Lee added. The Canadian punter has been playing the lotto for two decades, and now his
persistence has paid off
.