$11 million jackpot thanks to wife's bad breath
02-08-2013
Two Lotto 6/49 tickets have added a rewarding twist to Laurence Goldwater's retirement. The 65-year-old Burlington resident has claimed a
$11 million jackpot
thanks to the Lotto 6/49 tickets. He should be grateful to his spouse, who asked him to buy some breath mints.
Lucky breath mints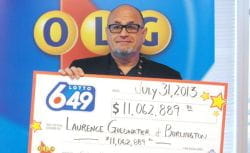 "We were planning to go to the cinema after enjoying a nice dinner. My spouse was worried about her breath and asked me to purchase some breath mints at the corner shop. I decided to buy two Lotto 6/49 quick picks, which turned out to be a life-changing decision," Goldwater commented.
Big winner
The 65-year-old retiree said that the self-check terminal displayed the words 'big winner'. For that reason, Goldwater asked the store worker to verify the ticket. He was stunned after the store clerk told he had won $11 million in cash. "The machine printed out a ticket displaying the staggering amount I had won," the 65-year-old
lotto player
stated.
Comfortable retirement
Goldwater revealed he would pay off his family's mortgage, while also using some of the money to finance the education of his seven grandchildren. "There's nothing more important than family, and the jackpot definitely makes our retirement a bit more comfortable," Goldwater added.