$1.1 million in slot jackpots thanks to software error
09-07-2015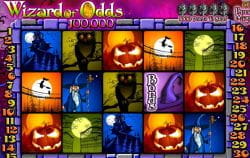 A software glitch has proven costly for the British Columbia Lottery Corp. Nine patrons will receive the progressive jackpot they won on the
Wizard of Odds online video slot
. The bill for the error in the bonus feature: $1.1 million.
Error message instead of jackpot
The online casino players scooped the progressive jackpot, but the video slot didn't pay out the windfall. Instead, the Wizard of Odds game displayed an error notification as a result of the software bug. The
online slot machine
is no longer available at the gaming site operated by the British Columbia Lottery Corp.
Losses refunded
A spokesperson for the gaming company noted that all clients who played the Wizard of Odds game during the period July 16, 2014 – June 11, 2015 will get their lost money back. At the same time, players don't have to pay back the money they won. The online casino
generated $109 million in gross turnover
both last year and this year.