$100 in lottery tickets instead of $500,000 prize
07-01-2015
There's nothing more disappointing than missing out on a staggering cash prize. That's exactly what happened to John Wines. The pensioner was excited after one of his scratch cards had hit a $500,000 prize. However, the New Mexico Lottery claimed it was a misprint, leaving Wines with a
huge hangover
.
Lip service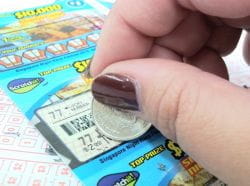 The Roswell resident had purchased several $20 tickets, with two of them hitting each $250,000 in cash. A spokesperson for the New Mexico Lottery told the pensioner a printing error had caused the mix-up. The
New Mexico Lottery
tried to ease the pain by offering Wines lottery tickets worth $100.
Disappointing reaction
"My life has never been easy, but cheating someone never even entered my mind. During my working time, if I did something wrong, I had to live with the consequences but the New Mexico Lottery fails to take responsibility for their
mistake
", Wines commented. The retired air-con technician added he won't take legal action against the lottery.