$1 million lottery jackpot thanks to found $20 bill
01-09-2015
Nothing beats the sensation of winning a life-changing cash prize, with the same applying for finding money. Ask Hubert Tang, who found a $20 bill, which he used to purchase two scratchers.
One of them hit the $1 million jackpot.
Sign of good luck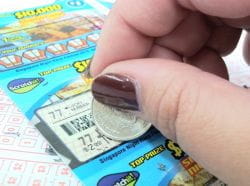 Tang noted he isn't a regular player, and the last time he bought a lottery ticket was more than ten years ago. He considered the found money as a sign of good luck, which made him decide to purchase two scratch cards. It turned out an extremely rewarding decision as one of the scratchers resulted in a
$1 million cash prize
.
Hard to believe
"At first I doubted if I had really scooped a jackpot of that magnitude. I shared the news with my buddy who was with me at the time, telling him that I had probably won $1 million in cash", the fortunate lottery player declared. "Perhaps I will begin
dropping some money at various locations to spread my good luck
."
No immediate plans
The California Lottery will award the shop where Tang bought the lucky ticket a selling bonus check for $5,000. He doesn't have any extravagant plans for his winnings, except to put the money in the bank and invest wisely.