$1 million in cash thanks to fulfilled promise
10-06-2016
They say 'a promise is debt', and Laura Bianco certainly found out after receiving a
significant portion of a $5 million lottery jackpot
. Florida resident Daniel Golio made the pact with his friend, and he kept his word. That's what they call 'true friendship'.
Lump sum of more than $2.6 million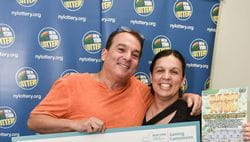 Bianco and Golio, who have been
friends for three decades
, vowed to award each other one fifth of any win. Golio used to live in the Bronx before he moved to Florida. The entrepreneur purchased the winning entry when he was visiting his old neighborhood. A spokesperson for the lottery confirmed that Golio chose the cash option for his
$5 million prize
, which is worth $2,647,200 after taxes.
Hooked on lottery tickets
Golio, who lives in Pasco County (Florida), is a real lottery fan as he buys multiple tickets several times a week. His
persistence finally paid off
, but despite his newfound wealth, the businessman will continue to play the lottery. Bianco intends to invest some of her lottery cash, while she also plans to settle some debts.