Vietnamese gamblers pay a high price for attempt to flee
11-01-2013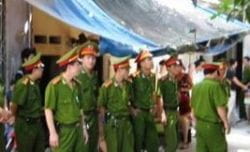 Police in Ho Chi Minh City (Vietnam) have raided a flat, after which three gamblers jumped out a window. Two of them didn't survive the fall from the four-floor building. The trio decided to jump in an attempt to escape from police. The incident took place last night at approximately 4:10 pm. Local media report that the other gamblers have been arrested.
Gambling after drinking party
The owner of the apartment had cashed about $1,440 thanks to a winning lottery ticket. He invited 10 friends to celebrate the win at his apartment, according to local media. The persons present started gambling after the drinking party had ended. All of a sudden, police entered the apartment and things got out of control after one of the police officers fired a gun in the air. The gamblers panicked and three of them jumped out a four-floor window in an attempt to flee from the police. Check
BestOnlineCasino.com
for more exciting gambling news.