Video poker slot seized at Norwalk-based bar
22-10-2012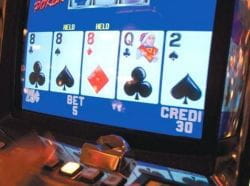 The operator of a bar in Norwalk, Connecticut has been arrested after authorities seized an illegal slot machine from his venue. Norwalk Police revealed that the 51-year-old George Pampoukidis has been accused of possessing an illegal gambling device. Pampoukidis has to appear in court on October 25.
Video poker slot
Both officials of the Liquor Control Division and Norwalk Police participated in the operation that targeted local bars. They found a slot machine at Athens Café. A police spokesperson revealed that players had to insert money into the video poker slot to obtain credits. The gambling machine provided gamblers a gambling ticket.
Keys to gambling machine
The 51-year-old owner of the café claimed he didn't possess the video poker slot. However, Pampoukidis was able to open the gambling machine thanks to a key. Officials didn't find any other gambling devices during the operation. It remains unclear if the incident will have consequences for the Norwalk-based bar. In August, we reported about a
similar incident in Columbus
, Georgia.