Underground gambling maquiñitas seized from mini market
13-06-2013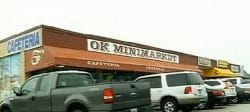 Miami-Dade Police have removed multiple gambling machines from a local convenience store. Officers discovered the
illegal gambling 'maquiñitas'
inside a room located behind the OK Minimarket. Various punters were spinning the reels of the gambling machines when the police officers raided the premises.
Suspects arrested
Several suspects were arrested, including the owner of the mini market (Jesus Abreu). He has been charged with operating a gambling establishment and possessing
illegal gaming machines
. His spouse and two other suspects in their sixties were also booked. All arrested suspects have been charged with gambling offenses.
Gambling cave
The gambling room was named
'la Cueva de Satán'
, which means 'Satan's Cave'. A Spanish-speaking man, who works at the OK Minimarket, commented: "I have never entered the room, I only work at the kitchen of the store."