The ten most popular casino games: Wheel of fortune
06-06-2015
Wheel of fortune is certainly a fun game and it has been around for a long time. Needless to say that the spinning wheel is the
shining center of many casinos
. This game occupies the 8th position in the list of ten most popular casino games.
Keep a close eye on the pointer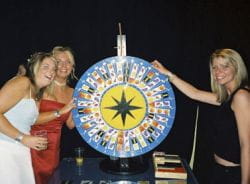 Players are invited to wager on one of six symbols, after which the wheel starts spinning like it's 1999. The wheel features 52 spaces, marked by two pins. It goes without saying that a player wins when the wheel stops on his or her symbol. So, all eyes on the pointer as it
determines the winning symbol
.
Massive payouts
Wheel of Fortune slot machines are also extremely popular, both in brick and mortar casinos and online. The huge payouts are definitely one of the main reason behind the slots' success. Last year, a gambling enthusiast from Texas
took home more than $1 million in cash
courtesy of a Wheel of Fortune slot machine. The life-changing win occurred at the Eldorado Resort Casino in Reno (Nevada).