Thai authorities focus on gambling during World Cup
13-06-2014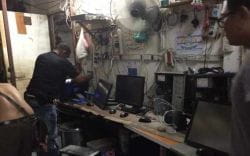 Another underground gambling venture has been raided by Thai police officers. This time it was a Patong-based store that offered
black-market internet gambling
. "An undercover agent discovered the illegal betting activities, after which we raided the premises", a spokesperson for the Patong Police stated.
Underground gambling in the back room
Police officers recovered five computers that were used to gamble online. Visitors could gamble online in the back area of the shop where the computers were found. Both the operator of the
illegal gambling
den and patrons managed to escape during the raid. Nevertheless, agents arrested one of the shop clerks.
Gambling charges
The police spokesperson added that the owner of the shop faces charges of gambling. Patong authorities have formed a special team to lookout for
underground betting
during this summer's football event. Everyone involved in gambling will be detained straightaway.