Swinton problem gambler avoids jail
14-08-2015
Most indebted gamblers continue to play in an attempt to win back the money they lost. Such behavior could result in a gambling addiction, but sometimes it turns out just fine. Meet Christopher Hurd, who
stole a whopping £21,000 from a relative
, but he managed to win back the lion's share of that amount thanks to his gambling 'skills'.
Stealing rather than caring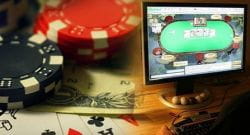 The Swinton resident was facing a jail term, but he has been ordered to carry out unpaid work. Hurd was supposed to take care of his grandmother, but instead he misused his power to loot her bank account. She called the police when she discovered the
embezzlement
.
Winning streak perfectly timed
The 39-year-old won almost £18,000 gambling, which he used to repay the stolen money. Hurd also took out a £5,000 loan to erase the rest of the theft. He even enjoyed a
£1,000 'profit'
after he had paid back the stolen money.
Second addiction
Besides gambling, the Swinton resident is also hooked on alcohol. For that reason, the judge ordered him to partake in an alcohol rehab program. It remains unclear if Hurd will also undergo treatment for his
out-of-control gambling habit
. Even though the 39-year-old had lady luck on his side, gambling as a way to win back your losses doesn't seem very wise.