Store clerk accused of stealing lottery tickets
15-09-2014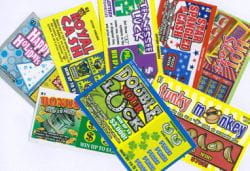 New York State Police have announced that a store clerk from Dover is facing grand larceny charges. The accused in question, Pradeep Malsingha, allegedly
took multiple lottery tickets
from the retailer where he was employed.
$4,100 in stolen lottery tickets
The 46-year-old Dover resident was bailed for $5,000 at the Dutchess County Jail. Police investigators determined that Malsingha had stolen lottery tickets worth over $4,100. At this point is unclear if the offender has a
gambling problem
.
Rewarding choice
In the meantime, another lottery fan took home $250,000 in cash courtesy of a
winning scratcher
. The fortunate player in question, Christopher Bielecki, purchased the scratch card at a supermarket in Frankfort, Illinois. "It was the first time I purchased a Black Diamond ticket as I normally play the Monopoly game. It turned out to be a rewarding choice", the Burbank resident noted.