Sporting Kansas City keeper opens up about gambling addiction
19-05-2013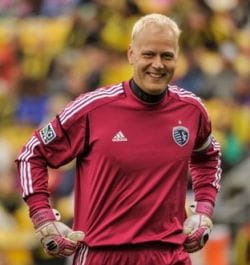 Jimmy Nielsen hopes that his new autobiography will offer support to gambling addicts. The Danish goalkeeper managed to overcome his gambling addiction. Nielsen used to gamble at casinos, while he was also a big fan of sports betting.
Moving costs
The Sporting Kansas City keeper also tells about the moving costs for their
cherished family pet
. Nielsen paid over $3,000 to transport the dog from Denmark to the US. However, this amount shrinks into insignificance compared to the money he lost at casinos and
sports betting
.
Useful experiences
"Reading the autobiography brings about feelings of surrealism," the Danish goalkeeper commented. "It all seems so far away as I overcame my gambling addiction eight years ago. I don't find it difficult to read about these things, but it's a bit weird," Nielsen added. He wanted to open up about his gambling habit as his experiences might be useful for other
gambling addicts
.