Roulette player takes frustration out on gambling machine
23-09-2015
Nobody likes to lose money, but that's certainly no reason to damage a gambling machine. Meet Stephen Hamilton, a gambling enthusiast who became frustrated when a roulette machine took all his money. He
smashed the machine
, causing about £850 in damage.
Bills to pay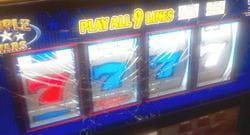 The incident occurred at a Grimsby-based betting shop last month. Hamilton now faces a
12-month conditional discharge
, which comes with a £15 victims' surcharge. Additionally, the 25-year-old gambler has to pay £200 in restitution, plus £150 in court costs.
Roulette machine assaulted
Hamilton became irritated as
lady luck was not on his side
. He hit the roulette machine with his fists, and one of the employees told him to stop punching the machine. Hamilton ignored the warning and hit the display again, breaking the glass. Staff were forced to deactivate the damaged roulette machine.
Gambling machines fixed
The 25-year-old man admitted he was a regular gambler who would play up to £200 at a time. Hamilton feared he wasn't able to repay the costs of repairing the gambling machine. The
gambler was frustrated
as he thought that the machine was rigged. The Immingham resident has a record of past convictions, including violence offences.