Robertson County authorities bust illegal gambling den
24-02-2014
Robertson County Sheriff's Police have flushed out an underground gambling den, which was located at a Hearne-based building. The raid was the result of an eight week investigation, initiated after reports of clandestine activities at the unnamed business. A spokesperson for the Robertson County Sheriff Department said that
no arrests
were made.
Over 43 clandestine gambling machines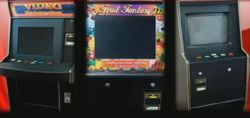 Initially, the investigation focused on prostitution and drug activities. Undercover agents however discovered that the property served as an
illegal gambling parlor
. Officers removed more than forty slot machines from the Hearne-based business. Those illegal gambling machines will be destroyed.
Money instead of non-cash prizes
Especially so-called 'eight-liners' are popular across the state of Texas. Gambling machines are only legal when they offer non-cash prizes worth less than $5. Everyone involved in illegal gambling faces a
jail sentence of up to twelve months
, in addition to a maximum fine of $4,000. All seized machines offered players the chance to win cash prizes, which makes them illegal.