Punters arrested at Madurai gambling establishment
26-05-2013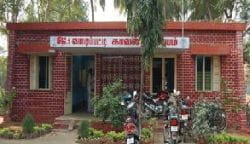 Forty-one gamblers have been detained at the Madurai United Club. The persons arrested were playing cards for money, according to a police spokesperson. An ex-police agent was among the group of gamblers.
Banker at gambling club
Madurai Police visited the Madurai-based gambling establishment after receiving information about illegal gambling inside the club. One of the suspects, identified only as Thalamuthu, served as a banker at the gambling parlor. Thalamuthu provided punters with gambling chips in exchange for money.
Illegal liquor
"We received a tip-off that large-scale gambling was going on inside the club. Subsequently, an undercover agent confirmed the
illegal gambling activities
," the police spokesperson added. The Madurai United Club also sold alcoholic beverages, while they didn't have a license to offer such drinks. Police agents impounded multiple alcoholic bottles from the establishment.