Problem gambler who stole $9 million at work faces prison
19-02-2014
53-year-old Larry Dean Winckler developed a gambling problem and started stealing money from his bosses. Winckler worked as a chief operating officer at a gas drilling company based in Indiana, Pennsylvania. After pleading guilty to several counts of fraud and theft, he faces
up to six years in jail
.
Embezzlement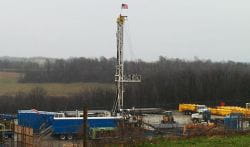 Winckler committed the fraud in cooperation with the firm's controller over a period of twelve years. The duo created bills for fake purchases and transferred the funds to private bank accounts. Winckler used most of the money to feed his
gambling addiction
. The 53-year-old man visited gambling parlors in New Jersey, New York and Pennsylvania on a regular basis.
Repayment
The former Falcon Drilling chief operating officer has to pay every penny back of the $9 million he stole. In the meanwhile, Winckler has already
paid back $10,348
. Additionally, authorities  have confiscated multiple assets, including several pendants and a Rockton-based property. Winckler is scheduled to be sentenced in late May.